04/12/2011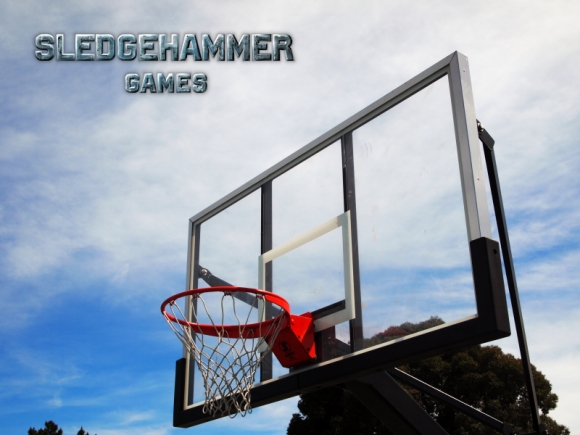 Sledgehammer Games is currently working hard at creating a fantastic Call of Duty experience. While all of our time is devoted to our particular project, we sometimes need to take a break to gain back that mental focus.
Here at Sledgehammer, some of the crew partakes in playing basketball at the local community center during lunch hour.
"Playing ball is a great way to not only build up your endurance and conditioning, but it's also a fun way to get out and interact with some of the people here at work." says Engineer David Kuo. "When you're running up and down the court for an hour or so, you don't really realize what a great workout you've gotten until it's all said and done."
Sledgehammer Games prides themselves as being not just a first-class game developer, but also a well-knitted family that embraces the experiences we have during the development process. Our culture expands into a variety of events including sports. So as time progresses, we look to expand on our growing culture by giving you an inside look in on some of the activities and happenings involved with the Sledgehammer Family.
To stay up to date on Sledgehammer Activities, please follow us on:
Don't forget, our first Hammer of the Month Contest will be announced in May on our Facebook!
Written by Guy Beahm
Categories Culture
04/08/2011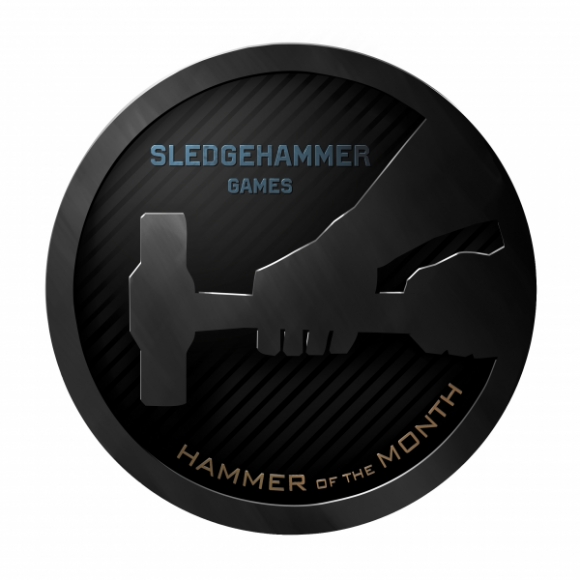 At Sledgehammer Games we strive for excellence in everything we do!
Our family of talented developers strives every day to meet the level of excellence needed to develop the greatest games the industry has to offer.
We want that extension of greatness carried over to our fans.
Introducing an inimitable following of the Sledgehammer Games Team:
HAMMER OF THE MONTH
At the beginning of each month starting in May 2011, we'll introduce a unique fan of the month contest on our Facebook Page that will allow you an opportunity to earn exclusive Sledgehammer Games prizes and memorabilia. In addition to becoming Hammer of the Month and part of the SHG family, contest winners will be showcased right here in Sledgehammer Games' Community Blog.
Are you ready to become a leader in the Sledgehammer Games Community?
Are you ready to become the Hammer of the Month?
Make sure to follow us on Facebook and Twitter to stay up to date with Sledgehammer Games news.
Stay tuned for the first contest announcement!
Written by Guy Beahm
Categories Culture
03/22/2011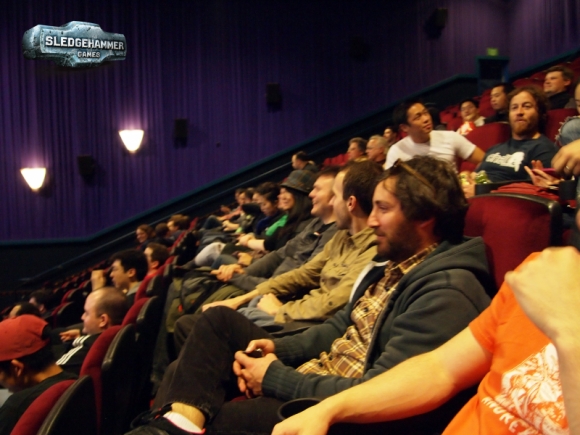 Last Wednesday, Glen Schofield and Michael Condrey took everyone from the studio to see the new action blockbuster film, Battle: Los Angeles!
"Work hard, play hard" is one of the mottos at Sledgehammer Games, according to Condrey. "The staff here has been pouring a lot of passion and energy into our current Call of Duty project and it's nice to get out of the office together and re-energize as a group."
Battle: Los Angeles takes you right into the alien invasion warzone. While the film has received mixed critical reviews, the visuals were pretty stunning. The film was full of amazing special effects, missiles, explosions, gun fire and aliens. I mean, that's all that matters right?....Right?
"I give it 5/5 stars," said Condrey. "Not only did it have a dog named Glen, but it highlighted the criminal critical skills all kids from New Jersey learn at a young age."
"Hey, I'm from New Jersey," said Schofield.
You can continue to follow the interactions between Glen and Michael on Twitter!
Written by Guy Beahm
Categories Culture
03/15/2011
Julie Couloules recently represented Sledgehammer Games and Activision at the 2011 Game Developers Conference in San Francisco.
I always look forward to the Game Developers Conference. We host a large booth at the Career Pavilion every year, and we put months of effort into preparing for the week's events. This year we had a shiny black booth at the event, with big plasma displays and plenty of developers there to review portfolios and talk to potential candidates. We were side by side with Blizzard, and the combined Activision Blizzard presence was impressive. This year we also had an invitation only party for developers, hosted at Fluid Ultra Lounge. It was a Call of Duty focused event, with drinks and appetizers (of course!). It was a great time. To thank everyone for attending all the invitees received a collector's edition Call of Duty iPod Shuffle. Perfect for post GDC workouts!"
The best part of GDC is meeting new people, making new contacts, and hopefully making some great connections that turn into future hires for SHG and the many great Activision studios.
Last year Sledgehammer was only months old, and we made our appearance at the conference for the first time. This year we're 90+ employees strong and are working on an awesome Call of Duty title. It'll be fun to see how things shape up for GDC 2012. One thing you can count on, Sledgehammer Games and Activision will be at GDC again next year. If you missed us this time, I hope to see you next year.
In the meantime, please check out the Sledgehammer Games career page at: http://www.sledgehammergames.com/careers
You can also follow us on Twitter! - http://twitter.com/SHGames
Written by Julie Coucoules
Categories Culture
01/04/2011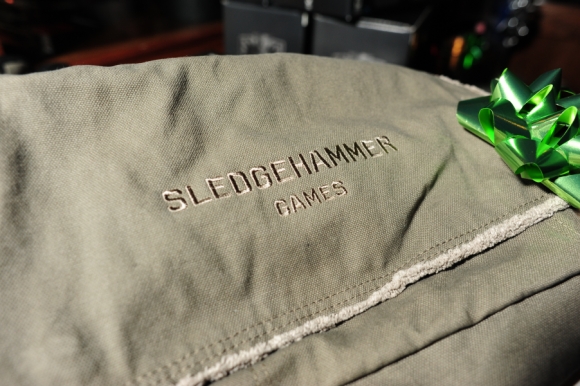 To kick off our winter break, we celebrated the holidays by taking over a beautiful jazz lounge/restaurant, "1300 Fillmore" in San Francisco's historic Fillmore jazz district. The restaurant was decked out for the holidays and was the perfect location for a classy Sledgehammer party. Everyone dressed up and snacked on a special menu provided by the restaurant.
There was also a live jazz band accompanied by the soulful singer, Lady Mem'fis.
Our photographer was Chloe Jackman.
Check out the photos from our event.
Written by Catherine Sheu
Categories Culture