11/05/2010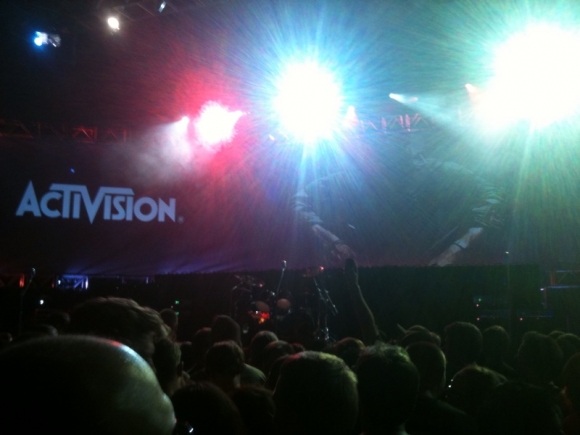 Glen and Michael showed their support for the Call of Duty Endowment and upcoming Black Ops game at the US launch party in LA last night. They rubbed shoulders with the likes of Kobe Bryant, Zach Braff, and Metallica at Santa Monica Airport's Hanger 8.
Also at the event was a multiplayer tournament featuring six branches of the US Armed Forces: Air Force, Army, Coast Guard, Marine, Navy and National Guard.
Bobby Kotick presented a check for $1 million dollars to the Call of Duty Endowment which is a non-profit, public benefit corporation founded by Activision Blizzard that helps soldiers transition to civilian life.
Check out the photos from the event.
Written by Catherine Sheu
Categories Culture
11/02/2010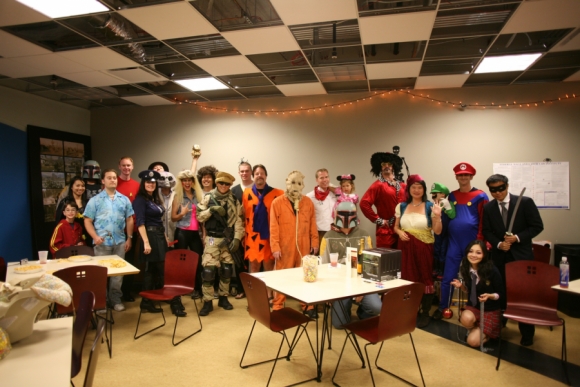 Last Friday we decorated the studio and had a big Sledgehammer Games Halloween Party. We had a pumpkin bowling break in the morning, where Condrey the Sheriff put a hole in the wall! Followed by a Candy Corn Catch with our very own Dee Snyder!
As always we had to have some kind of food related contest - this time called the Eyes in the Pie where 4 contestants searched for gooey eyeballs in Pumpkin Cream Pies! Robin prevailed and got each of his team members an extra raffle ticket for cool prizes.
We then ended the evening with a Costume Contest for best group (winners: Mario, Luigi, & Princess) and individual (winner: Scarecrow).
Check out the great costumes and pie cream covered faces!
Written by Catherine Sheu
Categories Culture
09/24/2010
Sledgehammer Games had their first annual family BBQ. It gave us the opportunity to take a break from playing video games and spend time with our families in the bright sunshine! Emergency BBQ catered a variety of delicious meats which were all marinated in beer. This was accompanied by the best cupcakes on earth from Sprinkles!
In classic Sledgehammer fashion, we couldn't have a BBQ without a Spicy Wing Challenge. The marinade for the spicy wings were a special recipe made just for us: Smoked Habanero Chicken Wings. We may have inspired them to create a contest at their restaurant… future Man Vs. Food? Check out the pics of the event and our winner Aaron who managed to eat 16 wings!
Written by Catherine Sheu
Categories Culture
07/27/2010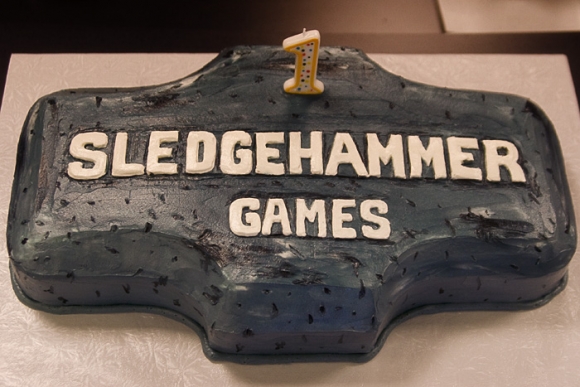 Last Wednesday July 21st marked Sledgehammer Games' first birthday. It's hard to imagine that a year has already passed since Glen and Michael joined Activision and started Sledgehammer Games. In the past year, we have moved from Glen's car to a real office in Foster City, grown from 2 to 60+ employees (enough to make a killer game), and somehow Michael made time to have a second baby!!! To celebrate the big day we had a party last Friday with a specially made Sledgehammer Games cake, tons of ice cream, and presents wrapped in Dora wrapping paper. Prizes included Call of Duty swag, a Sony Blu-Ray player, and a multitude of apple products including iPod shuffles, peripherals, and a Sledgehammer Games decorated iPad! Everyday should be Sledgehammer Games' birthday. Check out our photos.
Written by Catherine Sheu
Categories Culture
06/28/2010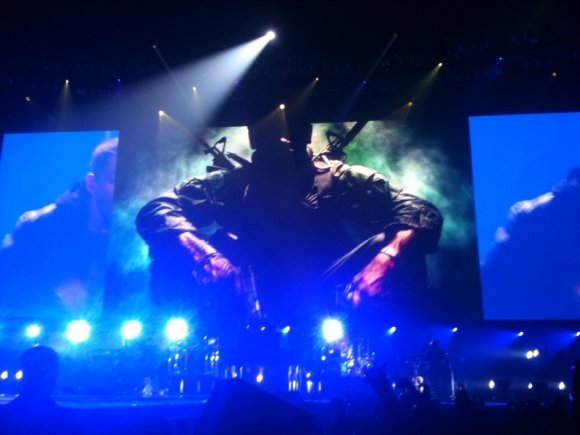 Myself and Michael Condrey had the distinct pleasure of being invited to the Activision concert at the Staples Center. Dave Stohl, Executive VP of World Wide Studios at Activision was cool enough to get us VIP tickets. I didn't think Condrey deserved them but we throw him a bone once in a while, plus he's scared to sit alone. I talked with Evan Wells of Naughty Dog, we go back a long way when we worked together on Gex 2 just before we went in. Anyway we worked our way to the front row! Unbelievable seats. We saw so many celebs from the gaming, music and movie industries.
The concert started with DJs Deadmau5 and David Guetta who got everyone rocking. Then the lights went down (Condrey was really scared now). There were three huge screens so everyone could see the performers. Cameras were everywhere; mounted from ceilings and moving on big booms. The crowd must have been a couple thousand. All the food and drinks were free provided by Activision. Lights down, Usher struts on stage and wows the crowd. Condrey threw his undies at him. He was followed, not exactly in this order, by Jane's Addiction (Navarro was rocking!), Soundgarden, and NERD. Like everyone else, I'm taking pictures, but right up next to the stage. In the middle of the floor was a ramp where Tony Hawk and his posse all skate onto the stage, say hello, announce the new Tony Hawk game and split. While this is going on Condrey is munching on a big pretzel. The crowd is going crazy but in a good way. People were dancing and drinking and just having a great time. The light show was cool and they even had pyrotechnics during the fantastic, and not long enough demo of Black Ops. The game looks amazing. Mark Lamia and Treyarch are really bringing it. It was world class. And speaking of world class, the final act was who everyone was waiting for. Eminem crashes onto the stage and the place erupts. He has such a great stage presence. Condrey is in tears by now. Eminem does a couple songs, some shout outs to Activision and then brings on Rihanna. They sing a song and then both leave the stage. Eminem comes back on and blows everyone away with "One Shot". By now even I'm in tears.
All in all it was a great night. It was a chance for Activision to just have fun, throw a big concert for the industry and fans, celebrate and barely talk about games. I liked that a lot. Instead of the usual big booth they did something extremely cool, different and it was one heck of a show.
Written by Glen Schofield
Categories Culture