08/12/2011
"Hi Sledgehammer Games. Us folks here from Germany want to know if you guys are coming to Gamescom? WE WANT MW3!"
Timm N.
Dortmund, Germany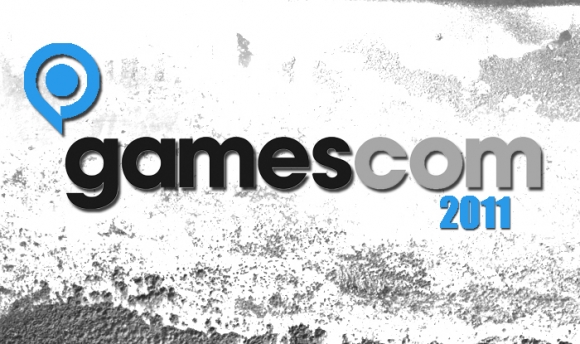 Hi Timm,
Sledgehammer Games will be at GamesCom 2011. Glen Schofield, Guy Beahm, and I will be there soon. Looking forward to enjoying a great show, and some good German beer. Perhaps not in that order ;)
Guy will be doing blog updates from the floor via sledgehammergames.com . For gamers wanting an inside look at the largest interactive games and entertainment show in Europe from a Sledgehammer Games development perspective, check back daily starting Monday.
You can also follow us on Twitter to stay updated on the show: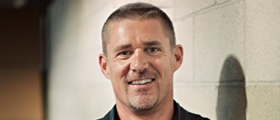 Glen Schofield - http://twitter.com/glenschofield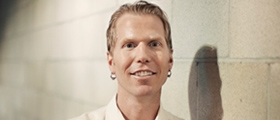 Michael Condrey - http://twitter.com/michaelcondrey
See you next week, Timm!
- Michael
Written by Michael Condrey
Categories People, Culture, Question of the Week
08/05/2011
Matt Olson asks: if you had to compare mw3 to a previous call of duty which game is it most like?
Hi Matt.
Your question caused me to pause and really think about my answer. I can't figure out if my brain is answering as a Call of Duty fan, or a Call of Duty developer. It probably comes from a position of both.
Every game in the Call of Duty series is based around certain core values to the property, but each also has its own flavor and personality. It's tough to directly compare this game to just one particular title in the series as each looks to build off of the greatest from the ones before, and to learn from the opportunities each presented. I think the campaign mode is bigger and more impactful than any of its predecessors. Innovations to Spec Ops, including Survival Mode, are really exciting and beyond either MW1 or MW2. From a Multiplayer perspective, most hardcore followers of the franchise say that Call of Duty 4 is the purest shooter in the series. Minimal air support, superb level design, gun skill based, etc. Modern Warfare 2 was fantastic in its own way as well. Customizable killstreaks, more weapons, and faster game play were some of the key expansions that made MW2 a very dynamic multiplayer experience.
We play Call of Duty: Modern Warfare 3 multiplayer every night at Sledgehammer Games. The game feels like it has gotten back to some of the roots of why this series has been so successful. It's a revamped engine with a refined approach on features. Our Community Manager, Guy Beahm, is a rabid high level MP player. He believes MW3 has taken MP to the next level, and I agree. (Or at least, I think so, since most of the time I feel like I am just running my head into his bullets.) There is elegance in the map design, with great flow and less verticality, a refocus towards gun skill, less noise in terms of air support, and teamwork is crucial for success. At least that is how I feel as a fan-boy/developer.
We understand that once the game is launched, it isn't the end of it. The fans are the key for great MP development. Constructive feedback is a necessity, and openness to criticism is a requirement. Here at Sledgehammer Games, we're big fans of Treyarch's community model because of how actively they interact with their fans. They continuously engage with their community and look for ways to help define the best multiplayer experience for players.
We have the same intentions. We'll be looking for feedback on how to give you the experience to date, and beyond, in the Call of Duty franchise. When 11-8-2011 comes around, please know we are all ears. Tell us what you like, what you don't, and where you'd like to see things go in the future. While you are at it, please quickscope the %$#& out of Guy Beahm if you find him online.
-Michael Condrey
Written by Michael Condrey
Categories Question of the Week
07/29/2011
Hello Sledgehammer Games!
I was looking at your studio pictures from your website. What's going on with your theater? From the videos that your Community Manager put together, it looks like there's definitely something new going on there. Care to explain?
Thanks,
Rick L.
San Bernardino, CA
Hi Rick,
Nice attention to detail! You are right. We just completed an upgrade to Scrap Yard, our studio Theater Room.
One critical design requirement for the studio build-out of Sledgehammer Games' new development space was a state of the art software review room. Our initial design focused heavily on functionality. We invested in high end, pro-grade audio and video equipment calibrated to the highest industry standards. The goal was to create a space that allowed for the purest media environment so we could experience the software in its truest form. That allowed us to focus our A/V feedback on critical polish items that would best showcase the game experience for the fans.
The amount of hours we've spent in Scrap Yard playing MW3 has been extensive. That is eclipsed only by the number of hours that Schofield has spent napping in Scrap Yard over the course of MW3's development. It didn't start as a luxurious room, and by its name, I think you can tell that it wasn't always peoples' favorite meeting room, but it was successful in serving its purpose.
Recently we transformed the room to also hold our 110+" HD projection screen and new seating for a more theater like demo experience. We still scrap in there as much as before, but now it is a lot more comfortable while doing it.
We're in the process of updating all of our studio pictures on the Sledgehammer Games' website including the theater room. We'll let you know once this happens. In the meantime, here are some before and after shots of the transformation.
Hope you enjoy!
-Michael Condrey, Co-Founder
Before: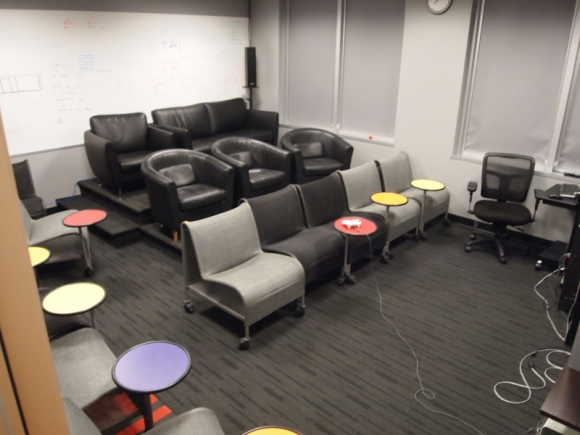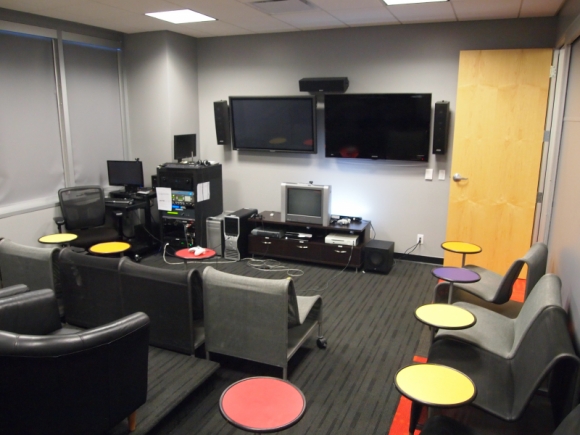 During: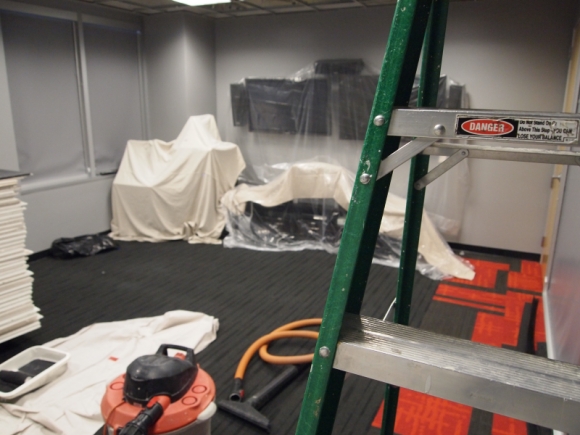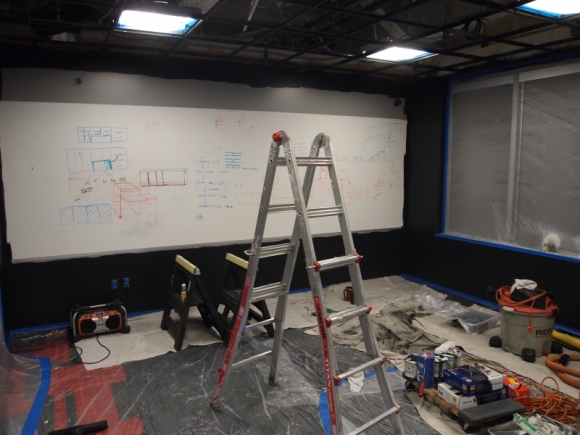 And the final results: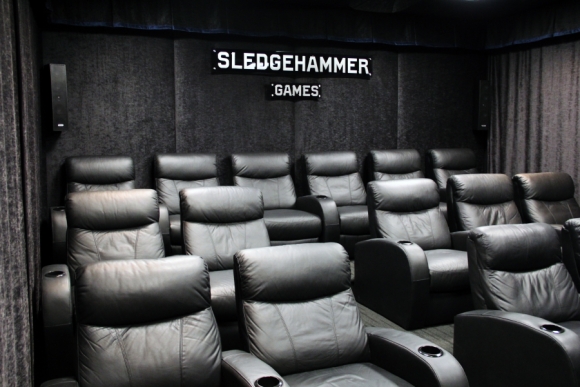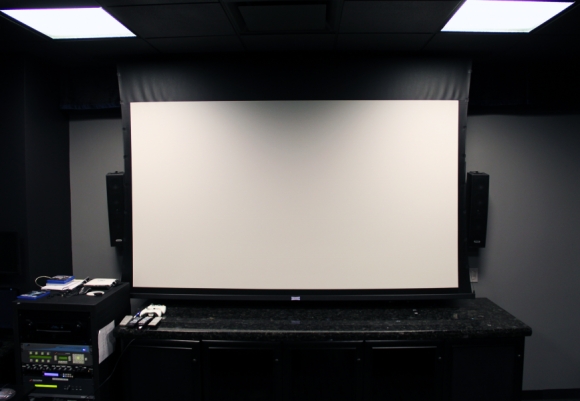 Do you have a question for Sledgehammer Games? We'd love to hear from you.
Send your question to: info@sledgehammergames.com
Written by Michael Condrey
Categories Question of the Week
07/21/2011
In your Coronado blog you mentioned two books you read about the Navy Seals. Can you tell us more about how you research to make your game realistic? Are there other books you recommend? What movies do you guys watch for inspiration?
- James, from Vancouver WA.
Hi James,
Finally, a Q of the Week that isn't "Where the #$%& is the #MW3 Spec Ops video?" ;) The answer to that is still: "Coming, promise."
On to your question!
Authentic interactive representations of modern military conflict are a cornerstone value of the Call of Duty franchise. Sledgehammer Games has a lot of experience in the FPS genre, as well as years of built up knowledge of modern combat and tactics. Many of the developers here at Sledgehammer Games, me included, have been developing First Person Shooters for more than a decade. We are all rabid FPS gamers. Some members of the development team have past military experience we draw from directly. Military strategies and technology move forward at remarkable rates though. While we draw heavily on the team's existing knowledge base and IW's long established track record with Call of Duty, we also invest a lot of energy in staying up to speed on the very latest military advances.
One of our best research tools is working closely with specialized experts, both active and retired, from different branches of the US Military including the Navy Seals and Delta Force. We work closely together on many aspects of the game design, and they have been useful in leveraging their contacts to set up offsite activities that put us straight into the boots of today's soldiers. Recently some of us were able to fly a Marine training mission in a V22 Osprey, for example. For our audio team, animators, artists and designers, it gave us an incredibly intimate and up close view of one of the most advanced exfil vehicles in action today. On another research trip, we got exclusive access to the Navy Seal BUD/S training facility at on Coronado. More details about that trip can also be found here: http://www.sledgehammergames.com/blog/category/modern-warfare-3
We read a ton of non-fiction accounts and consume tons of films, both documentaries and fictional military movies, at an incredible rate. Fortunately for us, the Navy Seal's take down of Bin Laden has resulted in a wealth of Spec Ops articles and books flooding the market. My "to read" stack has grown nicely since May. The books in my office, which represent just a fraction of the library at Sledgehammer Games, are consistently changing as I find new books to read and lend books out to others. Currently, the collection includes:
Secret Commandos by John Plaster
Lone Survivor by Marcus Luttrell
Kill Bin Laden by Dalton Fury
War by Sebastion Junger
7 Deadly Scenarios by Andrew Krepinevich
The M16/M4 Handbook by Mike Pannone
A 10 page article in the August, 2011 Popular Mechanics called "Secrets of the Navy Seals"
and the book I just got this week: Lions of Kandahar by Major Bradley
Our studio kitchen big screen cycles a nonstop parade of inspirational movies and key research films. Some of the studio favorites include Black Hawk Down, the HBO series Generation Kill, Hurt Locker, and Full Metal Jacket, to name a few. We also pull from other film genres for inspiration as well. Glen, who tends to have trouble comprehending big words, has a pretty impressive collection of reference films piled high in his office.
Honestly, that's just a snapshot of some of the high level research we do. Each department in the studio dives deep into research specific to their parts of the game. Your question sparks a great topic and we are looking to dive deeper into the subject via our blog. Keep your eye out. More good stuff is coming.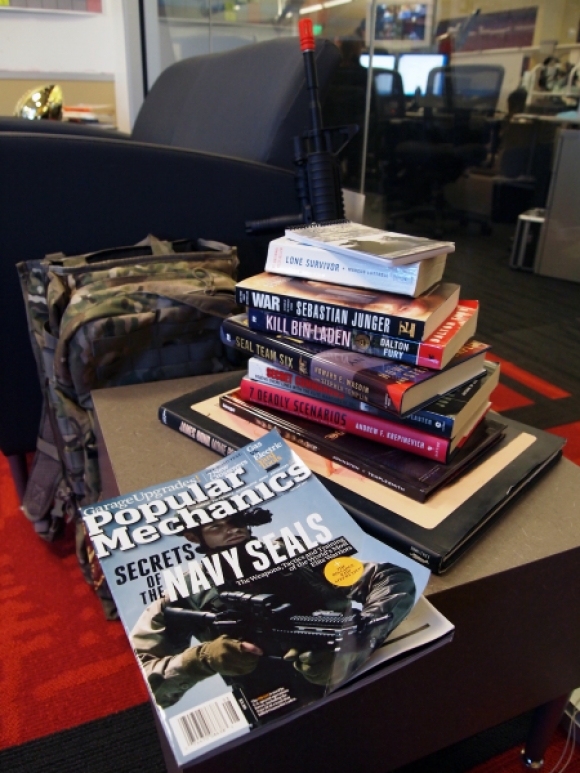 Written by Michael Condrey
Categories Culture, Question of the Week
07/15/2011
I have a question that I need some answering/clarification on. Your upcoming game Modern Warfare 3 will most likely be rated M, and I am wondering, and hoping, that it will have some sort of content filter. Im restricted on the games that I get, and I would like to get the pre-order out of the way asap. Thank you Sledgehammer Games. Looking forward to the next Call of Duty!
- Jared Hoyt
Hi Jared,
Call of Duty MW3 is currently "Rating Pending." The Entertainment Software Rating Board (ESRB) has not completed their review process on the game. Historically, Call of Duty games have received the M, or Mature17+, designation in the US.
Navigating the many rating boards around the global is a unique challenge for video games. It is especially difficult for this game and its worldwide Call of Duty fan base. ESRB's criteria is different than the European system (PEGI). Germany does not formally recognize PEGI and instead uses their own USK system, with its own specific criteria. Likewise, the Australia Classification Board and Japan's CERO differ in their criteria. There are definitely region specific content concerns that we have to manage and filter on a sku/territory basis.
That might not have answered your question. If you were asking if there would be a content filter for the US specifically, the answer is no. The rating that ESRB assigns us will be the official, and only, rating for the US version of Modern Warfare 3.
The good news, thanks to the Supreme Court ruling in June, is that parents have the right to determine which games are appropriate for their children. I played a lot of Grand Theft Auto, but wouldn't recommend it to my young nephew, for example. Nor would I recommend my last game, Dead Space, to him. The M rating was given to both, but for different reasons. One day, I expect he will play them, and his parents decided that it won't be for several more years. I support ESRB as a tool to help them, and all parents, make smart decisions around which games are appropriate to bring home.
Call of Duty isn't, and never was, about gratuitous violence. It is meant to capture an authentic and believable depiction of modern conflict. If your parents restrict the games you can buy based off its rating guidance, then I would say you should be thankful. Clearly they care about you and have your best interest at heart.
Hopefully they'll let you preorder, but if they don't you have to respect their wishes. I wouldn't want it any other way.
Best,
Michael
Submit your questions to info@sledgehammergames.com
Written by Michael Condrey
Categories Question of the Week