09/15/2011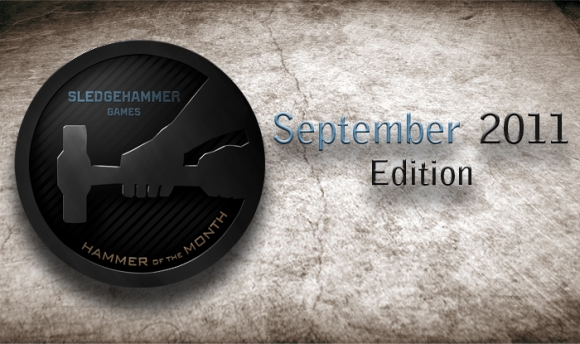 Welcome to Hammer of the Month, September 2011 Edition!
We had another great turn out for last month's Hammer of the Month Contest. Much to Michael's surprise, the end result was Glen's photoshop picture of him. Condrey promises retaliation. We'll see.
A lot of entries came in, trying to solve the Gamescom puzzle. The contest winner, and fastest puzzle solver, Sean K, came out winning this:
Help spread the word! Let's keep on rocking these!
Now for September's Contest:
At Call of Duty XP, through all the chaos, I managed to only capture two patches: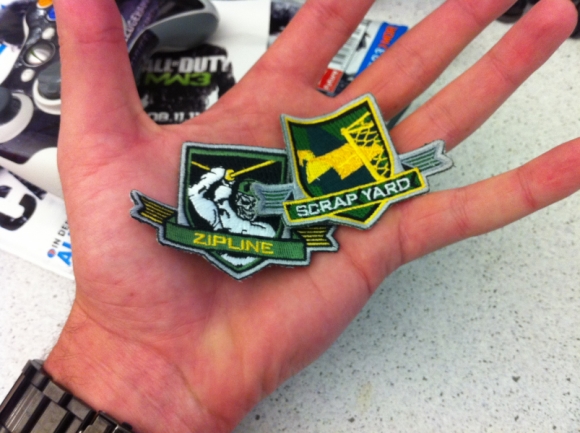 Anyhow, pretty pathetic that the Community Manager for Sledgehammer Games only collected two patches, right?
So I ask you guys, the attendees, how many patches did you collect from Call of Duty XP?
Take a picture of you with all your patches from the event. The person who submits the picture with the most patches to contest@sledgehammergames.com will become September's Hammer of the Month.
How many did you claim? Let's find out, don't be shy! In the event of a patch tie, the most creative patch display will win.
Deadline for submission is September 30th, 2011.
Written by Guy Beahm
Categories Culture
09/09/2011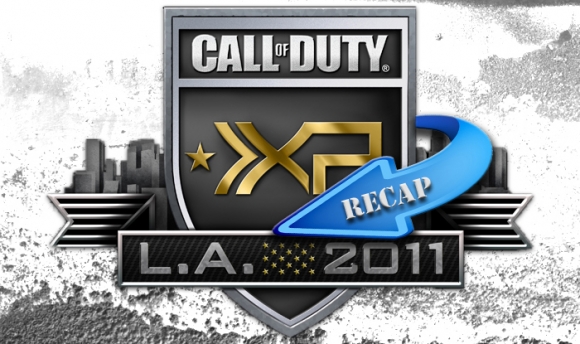 Call of Duty XP was an absolutely incredible event. The Sledgehammer crew was representing in full force once again rocking our MW3 shirts. We've captured plenty of pictures to share here so we hope you enjoy! You can also check out more photos from the event on our Facebook page. In addition to photos, we've decided to share some of our experiences first hand with an official Sledgehammer Games Call of Duty XP recap video featuring Co-founders Glen Schofield and Michael Condrey. Watch it here:
"When we first drove up to the venue, I was instantly blown away." says Community Manager Guy Beahm. "Everything we've been talking about and envisioning was finally here, alive. The Scrapyard recreation was insane, Burgertown was thriving, the Jeep experience was a hit, and the fans were rocketing across the air on the zip line. Crazy"
Guy continues, "While all of that was taking place outside, inside was the real star… MW3. Being hosted in two HUGE hangars, Call of Duty: Modern Warfare 3 Multiplayer and Spec Ops were being showcased everywhere. The One Million Dollar Tournament fueled the intensity of the multiplayer experience, attracting some of the best players and teams in the world. Outside of the game there were various events including panels, Pros vs. Joes competitions, Juggernaut Sumo Wrestling and concerts from Kanye West and Dropkick Murphys."
"The event was particularly special for the development team at Sledgehammer Games. We have poured a ton of passion, energy, and sweat into the development of MW3, with one singular goal: to help make this the biggest and best Call of Duty game to date. For us to be there, with the fans, was incredible. Whether you watched the live stream or experienced it first hand, I think everyone walked away pretty amazed! If it weren't for the fans, an event of this magnitude would never exist, so thank you!"
Written by Sledgehammer Games
Categories People, Culture, Modern Warfare 3
09/09/2011
"Now that Call of Duty XP is over with, what's next for Sledgehammer? I assume you guys aren't done with the game quite yet?"
-Mary
Hey Mary,
Call of Duty XP 2011! What an event! It was truly remarkable. From the opening keynote to the closing Kanye West concert, the show exceeded every one of my expectations. The best part for me was the validation by the fans that the MW3 MP and Spec Ops: Survival Modes were great. A ton of passion and heart has gone into the development of MW3, and seeing thousands of fans playing and enjoying the game was heartwarming. There is a ton of coverage on the event at http://www.callofduty.com/xp and @GuyBeahm is putting up some Sledgehammer Games' exclusive coverage at www.sledgehammergames.com.
Now that we are back, the focus is 100% on polishing the game and driving to software Final. The final touches are going in, the last bits of icing are being put on the cake, and we have an army of QA testers working their butts off to ensure we have a very solid piece of software ready for submission. Dedicated Servers for PC is a big effort at SHG and a lot of engineering brains are driving hard to bring that to fans on 11.8.11 as well.
What many gamers may not know is that it takes double digit weeks of time to clear 1st party approval at MSFT or Sony, to manufacture the discs and boxes, and to get them to retail stores for the fans. When you are talking about a game on the scale of Call of Duty, the manufacturing and distribution models gets strained to their maximum capacity. It's a good problem to have, I suppose, but it siphons off precious time at the tail end of the schedule leading up to release. November still seems a little ways away, but that time will get eaten up quickly. We are driving hard to maximize every last opportunity before we go into 1st Party.
To offset the stress of the final sprint, I am sending Schofield on a four week global PR trip starting this weekend. His first stop is Tokyo Game Show next week, and from there he heads across Europe to share MW3 with our fans across the pond. If I paid the right people the right amount of money, his tickets and passport just may get lost somewhere along the way, and we might not see him again until December. But don't worry, he's a big boy and would do fine in a small Turkish prison for a few months.
- Michael
Send your question to: info@sledgehammergames.com
Written by Michael Condrey
Categories Question of the Week
08/30/2011
The Sledgehammer Games' Crew is prepping for this week's HUGE event, Call of Duty XP!
In the midst of all the preparation, Gamespot paid a visit to the studio last week as they sat down with Glen Schofield and Michael Condrey to discuss anything and everything Call of Duty XP and Sledgehammer Games. Check out the two exclusive videos below:
Call of Duty XP Event Teaser:
Who is Sledgehammer Games?:
Written by Guy Beahm
Categories Modern Warfare 3
08/26/2011
"Hey Michael, what happened to the Question of the Week this week?"
-Guy Beahm, Foster City, CA
This week has been nuts. Between cleaning up the post-GamesCom disasters caused by Hurricane Schofield, and preparing for Call of Duty XP next week, I've barely been able to tread water. Terrible excuse, I know. On a good note, CODXP is shaping up to be amazing. MW3 MP, Kanye, $1M Tourny, Dropkick Murphys... I can't wait. http://www.callofduty.com/xp
Sledgehammer Games has a few more tickets to give out next week. If you still don't have your ticket, be sure to follow @SHGames for details on how to win. And for Hammerfans who can't make it to the event, make sure you check our website daily for behind the scenes coverage from Guy Beahm, and follow us on Twitter for minute to minute updates from the Call of the Duty XP floor."
- Condrey
Written by Michael Condrey
Categories Question of the Week