08/17/2011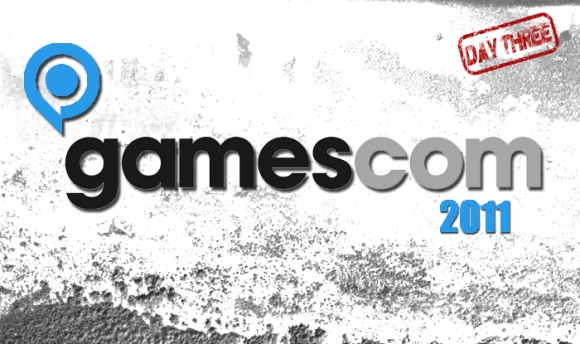 Hammers,
First official day of Gamescom 2011 got into full swing today with members of the press circumnavigating the huge convention halls. The Sledgehammer Games crew arrived at the event and quickly became focused in on the objective at hand... Call of Duty: Modern Warfare 3.
Before heading to the business/press area, Co-founders Glen Schofield and Michael Condrey both decided we should stop by the Activision booth and say hello to the fans who were standing in line to play MW3.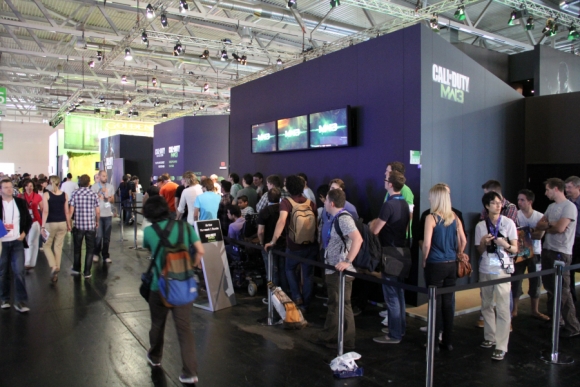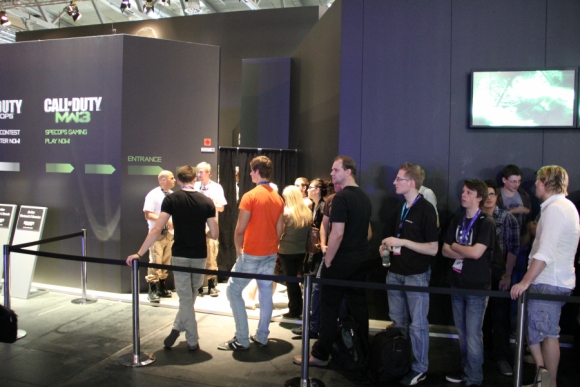 Excitement was in the air and you could just feel it. It was great to hear the applause after the Hunter Killer level ended too. People are showing how genuinely impressed they are with this year's Call of Duty title and features surrounding the game. We're very excited!
From there we headed off to perform a full day's work of press interviews and playthroughs.
Press Demo Rooms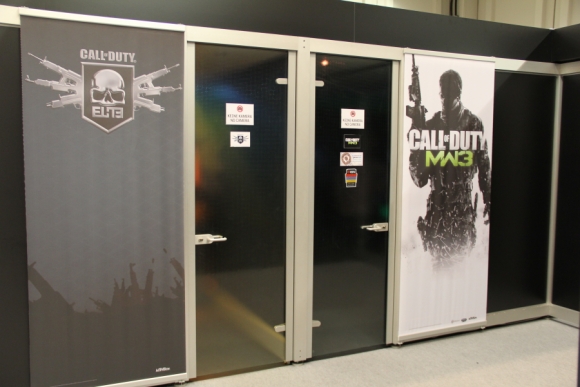 On our demo list was Spec Ops Survival mode on a never before seen map, Paris, as well as an all new mission mode. We had the opportunity to demo these with a variety of industry press ranging from hardcore Call of Duty community sites to some of the bigger names in the industry including 1up, Machinima, and Geoff Keighley from Gametrailers.
Overall, today was a great start to Gamescom 2011. Having the opportunity to be a part of all this, playing MW3 with members of the press while providing constructive insight into the specifics of the game has given us an absolutely fantastic feeling all around. We're all very thrilled about this game and with the big announcement of Dedicated Servers for PC, we know you'll enjoy this year's Modern Warfare experience!
Community Manager Guy Beahm with Call of Duty Military Advisor Hank Keirsey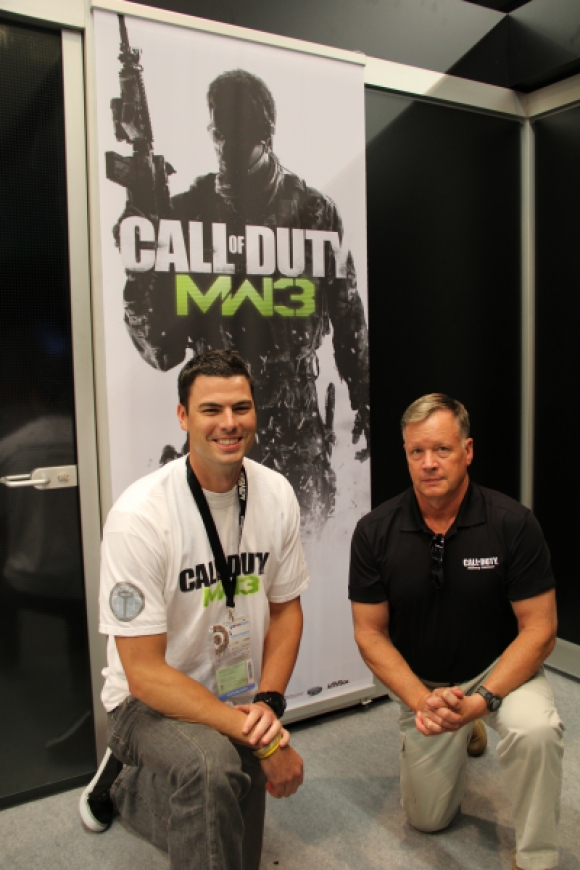 Cheers,
August Hammer of the Month Contest - Picture #3 of 5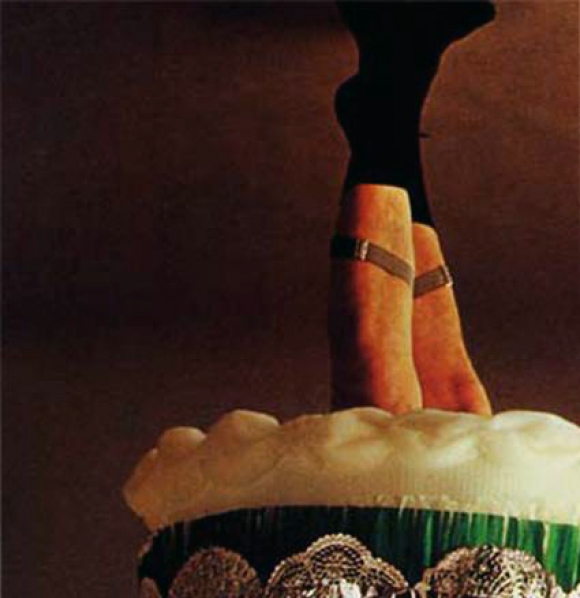 Written by Guy Beahm
Categories Culture, Modern Warfare 3
08/16/2011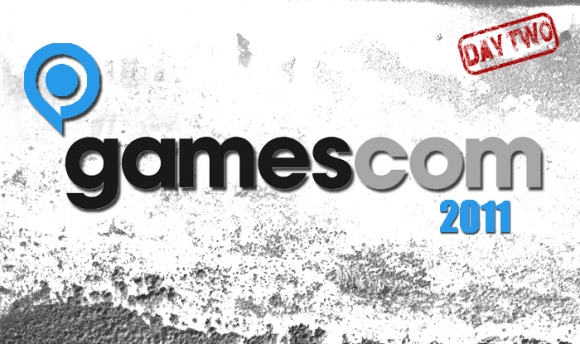 Hammers,
Today we woke up and had a nice breakfast at the hotel. After listening to Glen's stories involving some extremely unknown horror movies, we ventured off to Gamescom to get some hands-on Spec Ops training with the Activision production crew. Tomorrow is the official first day of the event.
Glen and Michael navigating Gamescom 2011 before it officially opens 8-17-2011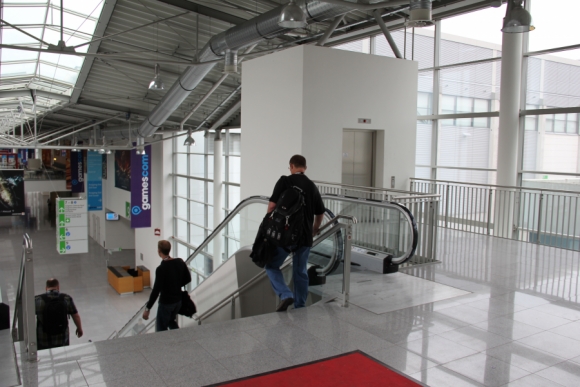 When we arrived to the convention, we actually became lost quite quickly. The vast size of Gamescom and its layout was almost overwhelming… in a good way. But we finally found our destination which was the Call of Duty booth and we were blown away. From a theater that accommodates 90+ fans, a Black Ops Million Dollar Tournament qualifier, and ultimately the showcasing of Call of Duty: Modern Warfare 3 Campaign and Spec Ops Survival Mode, the booth had it all!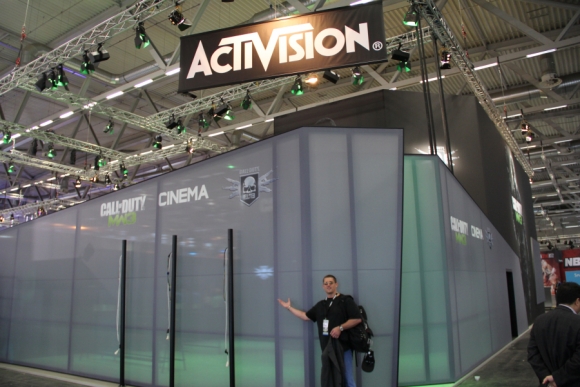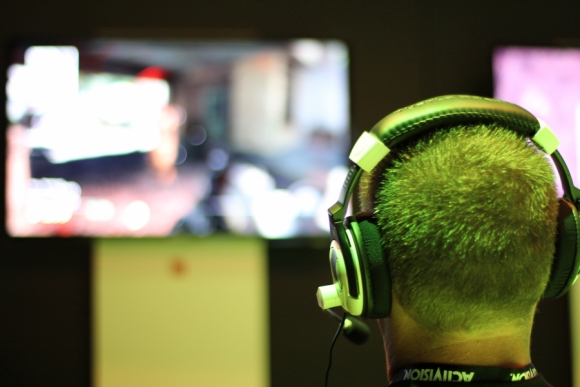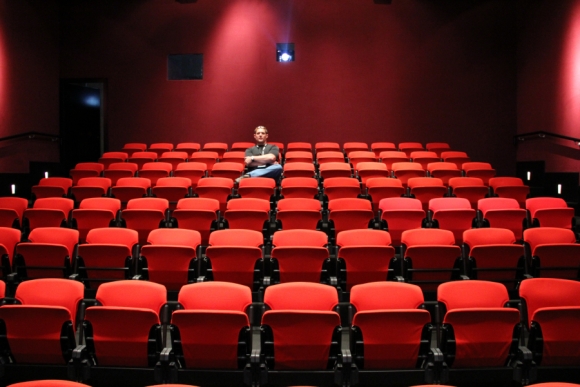 Additionally, the Activision booth in general has a very strong presence this year. World of Warcraft is definitely ready!
After the convention we did some touring around Cologne. In the midst of Glen and Michael's constant bickering of one another, we decided that it was time for lunch. The restaurant we decided on had fantastic food as well as an amazing view of downtown Cologne.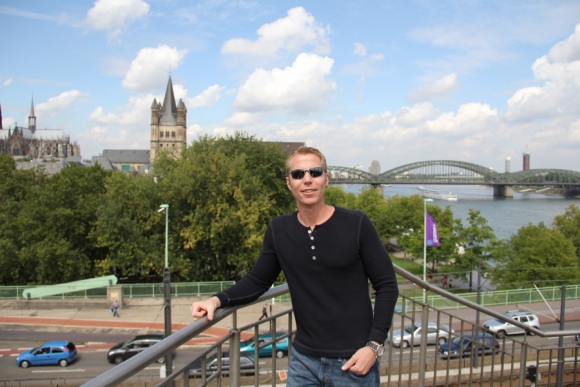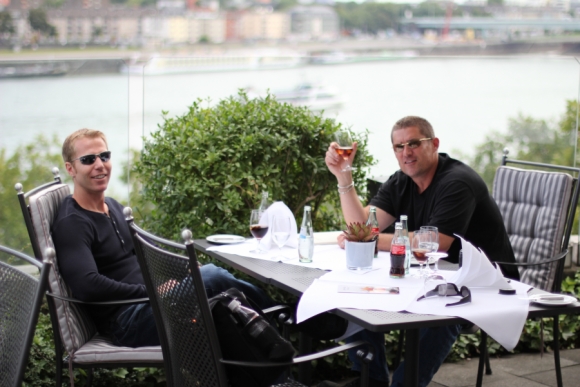 But lunch only proved to be fuel for a nap. So that's what we did. After a few hours rest, Glen, Michael and I met with Activision EU Marketing and had a wonderful Italian dinner to cap off the night.
Between seeing the Call of Duty booth and today's experiences, it was another wonderful day of sightseeing and prepping for the big show that starts tomorrow.
Gamescom 2011, here we come!
Cheers,
August Hammer of the Month Contest - Picture #2 of 5

Written by Guy Beahm
Categories Culture, Modern Warfare 3
08/15/2011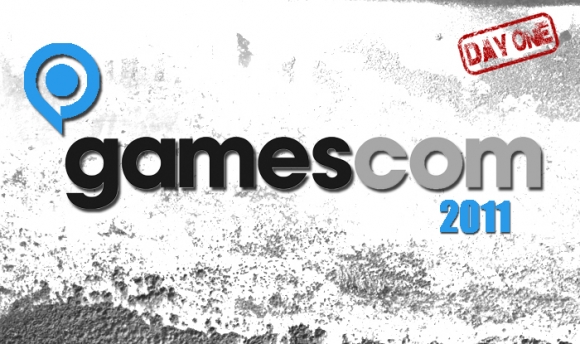 Hello Hammers,
Sledgehammer Games had a wonderful first day in Cologne, Germany. Being that Gamescom doesn't actually start until Wednesday, the crew decided to do some sightseeing today. So Glen, Michael, and I hopped on the train in Cologne and traveled alongside the infamous Rhine River to a little German town call Koblenz.
Train station in Cologne, Germany
During our trip to Koblenz, we were able to see quite a few attractions including historic castles and extravagant churches along the banks of the Rhine river.
Once we reached our destination in Koblenz, we navigated through the city and made our way to the Electoral Palace where beautiful gardens and landscaping were on display.
Glen in front of the Electoral Palace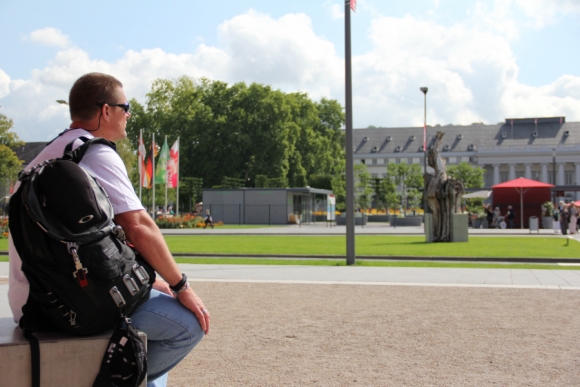 But we didn't just stop there. We had heard about the sheer size of the fortress, Ehrenbreitstein alongside the east bank of the Rhine river so we had to see it for ourselves. Wow, what a fascinating place. Even the tram ride up to the fortress was an experience in itself.
Michael on the banks of the Rhine river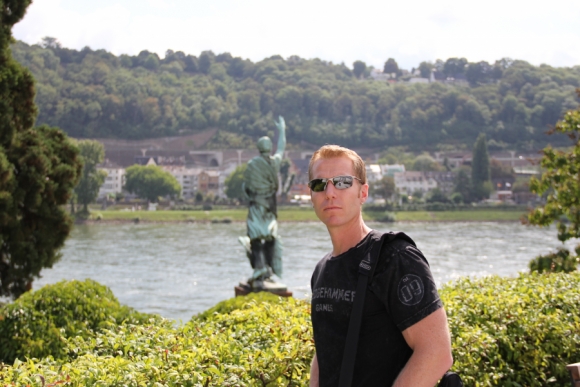 Ehrenbreitstein Fortress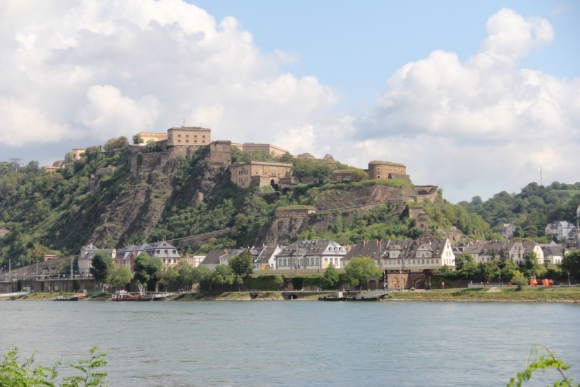 Guy in front of the Ehrenbreitstein fortress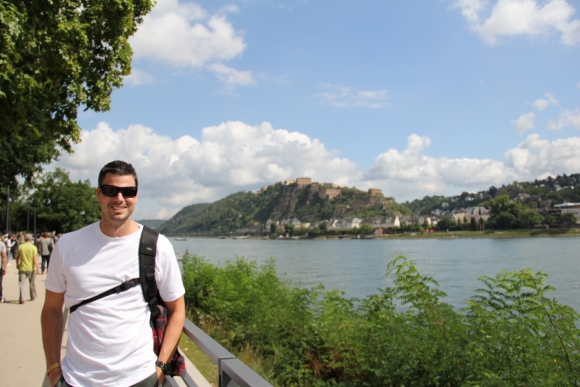 The fortress was absolutely amazing. From the architecture and layout of the land, it's hard to fathom how much energy was spent creating such a structure... it was truely breathtaking. We talked about the idea of how cool it would be if a MP map was built based upon the layout of the fortress. Hmm, ideas ideas.
Oh, and the view, well....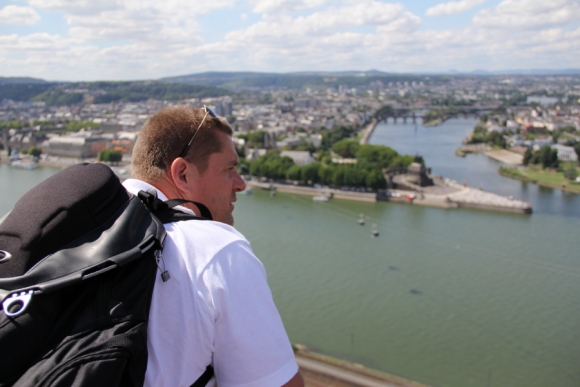 .... perfect.
Having the opportunity to hang out with Glen and Michael while experiencing today's events, I'd say it was an awesome day!
Cheers,
Written by Guy Beahm
Categories Culture, Modern Warfare 3
08/14/2011
August Hammer of the Month | Gamescom Edition!
Sledgehammer Games is in Cologne, Germany this week for Gamescom 2011! We're looking forward to meeting everyone here while showcasing MW3 at the Activision booth. For the first time, fans will get some hands-on time with the all new Spec Ops Survival in never before seen locations, and some exciting new announcements that gamers have been asking for.
Throughout the week, we'll be updating our webpage with a daily recap of events including stories and pictures from Co-founders Glen Schofield and Michael Condrey as well as Community Manager Guy Beahm. Also included in these daily recaps are key steps to winning the August Hammer of the Month contest!
So without further ado, let's introduce the contest:
At the end of each Gamescom daily recap, there will be a random picture. Consider that picture just a small piece to the bigger puzzle. There will be five random pictures total with the last one being on Friday of this week. We're asking you to put these five pieces together to reveal one big picture. The first successful picture submitted to contest@sledgehammergames.com becomes the August Hammer of the Month!
Winner receives the infamous Tool Box of Chaos! What's in the box you ask? You'll have to wait and see…
So make sure you're following us on Twitter to stay up to date on everything Sledgehammer Games including our daily recap of Gamescom all week.
Good luck!
-Guy
Written by Guy Beahm
Categories Culture
08/12/2011
"Hi Sledgehammer Games. Us folks here from Germany want to know if you guys are coming to Gamescom? WE WANT MW3!"
Timm N.
Dortmund, Germany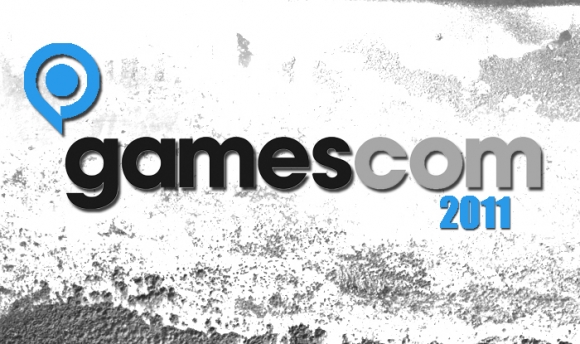 Hi Timm,
Sledgehammer Games will be at GamesCom 2011. Glen Schofield, Guy Beahm, and I will be there soon. Looking forward to enjoying a great show, and some good German beer. Perhaps not in that order ;)
Guy will be doing blog updates from the floor via sledgehammergames.com . For gamers wanting an inside look at the largest interactive games and entertainment show in Europe from a Sledgehammer Games development perspective, check back daily starting Monday.
You can also follow us on Twitter to stay updated on the show: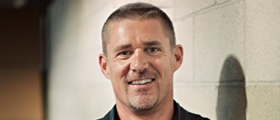 Glen Schofield - http://twitter.com/glenschofield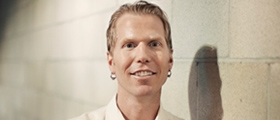 Michael Condrey - http://twitter.com/michaelcondrey
See you next week, Timm!
- Michael
Written by Michael Condrey
Categories People, Culture, Question of the Week