06/13/2011
Do you have a question for Sledgehammer Games? Want to know more about us, our studio culture, and/or MW3?
Every Friday, a member from the Sledgehammer Games Crew will answer one of your questions.
So for example, if you want to know more about what we do on a daily basis, we just may answer that. If you're interested in learning about how we've been doing our research in developing MW3, we just may answer that. If you have a question about what food we stock in our kitchen, well, I can answer that for you right now, Cinnamon Toast Crunch cereal!
So if you want your question highlighted and answered, please submit to:
First question will be answered this Friday.
Written by Guy Beahm
Categories Question of the Week
06/02/2011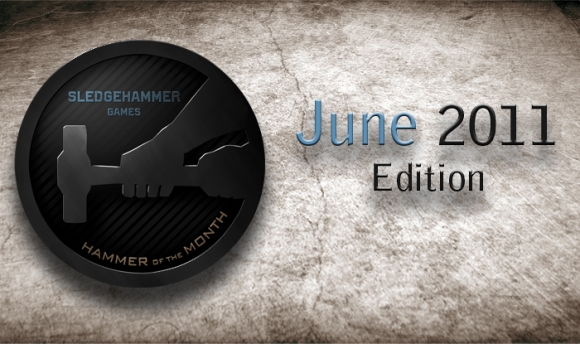 Welcome to Hammer of the Month, June 2011 Edition!
Do you have a YouTube channel? Are you ready to show off your design scheme and talent? We're looking for an elite YouTube channel that best represents the Sledgehammer Games community.
We want to see you ingeniously transform your channel into a Sledgehammer Games/Call of Duty showcase. We are looking for the ultimate depiction of what the franchise and our studio means to you, the ultimate fan.
Bonus points will be awarded for custom designs, unique artwork, and any SHG specific video content. We had loads of entries for our May contest, so we expect the competition to be high. Bring your A game and let's keep this baby rockin!
Like always, the winner will receive the Tool Box of Chaos.
So send us a link to your YouTube channel to contest@sledgehammergames.com
Deadline for submission is June 30th, 2011.
Winner will be announced at the beginning of July's contest.
Written by Guy Beahm
Categories Culture
06/01/2011
And the winner for the first ever Sledgehammer Games Hammer of the Month Contest is….
Stephen (Tipsy)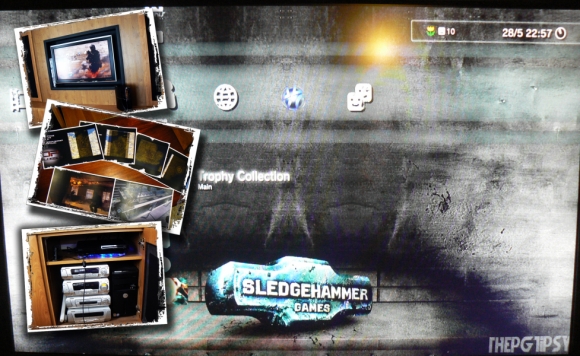 Congratulations!
We had a ton of entries in this month's competition. It was hard to pick a winner. Thanks to all who sent in their unique, crazy, and many times inappropriate submissions!
"Why is my setup the best gaming set up?" Stephen says. "The surround sound means that you're always aware of people trying to sneak around in FPS games and it's especially helpful in Modern Warfare 2 to combat those using ninja and/or trying to sneak around. Couple this with the big unit devoid of distractions and a big TV makes for quite an immersive gaming experience. Plus the sofas are mega comfy to say the least!" It also didn't hurt that Stephen sent me a giant box of cash and a poem titled "Ode to Sledgehammer Games"
Stephen's prize from the Tool Box of Chaos will be in the mail real soon. Maybe he'll do a prize unboxing for everyone!
UPDATE! (6/10/2011)
Stephen has posted an unboxing video. Check it out: http://media.photobucket.com/image/recent/woodpure100/ae2a20fb.mp4
The Hammer of the Month Contest for June will be announced tomorrow.
Written by Guy Beahm
Categories Culture
05/23/2011
It's official! Sledgehammer Games is working on Call of Duty: Modern Warfare 3 with Infinity Ward! Check out the reveal trailer!
Michael Condrey, Sledgehammer Games Co-Founder says, "This is an extremely exciting time for everyone here at the studio. We built a AAA development team and a state of the art studio, partnered with one of the industry's most critically acclaimed developers, and are now co-developing on the most successful action franchise in the history of video games. We couldn't have hoped for a better start as one of Activision's newest independent development studios."
Follow us on Twitter: http://twitter.com/shgames
Written by Guy Beahm
Categories Modern Warfare 3
05/05/2011
Written by Sledgehammer Games
Categories Modern Warfare 3