07/27/2010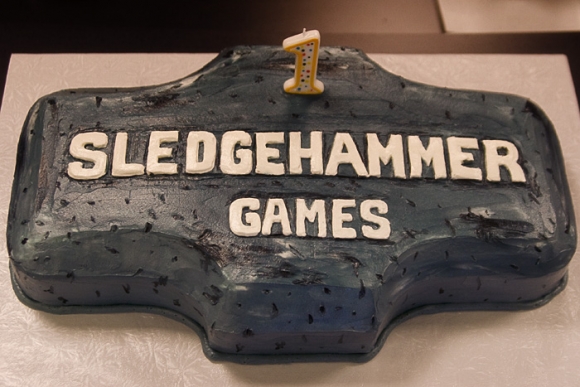 Last Wednesday July 21st marked Sledgehammer Games' first birthday. It's hard to imagine that a year has already passed since Glen and Michael joined Activision and started Sledgehammer Games. In the past year, we have moved from Glen's car to a real office in Foster City, grown from 2 to 60+ employees (enough to make a killer game), and somehow Michael made time to have a second baby!!! To celebrate the big day we had a party last Friday with a specially made Sledgehammer Games cake, tons of ice cream, and presents wrapped in Dora wrapping paper. Prizes included Call of Duty swag, a Sony Blu-Ray player, and a multitude of apple products including iPod shuffles, peripherals, and a Sledgehammer Games decorated iPad! Everyday should be Sledgehammer Games' birthday. Check out our photos.
Written by Catherine Sheu
Categories Culture
06/28/2010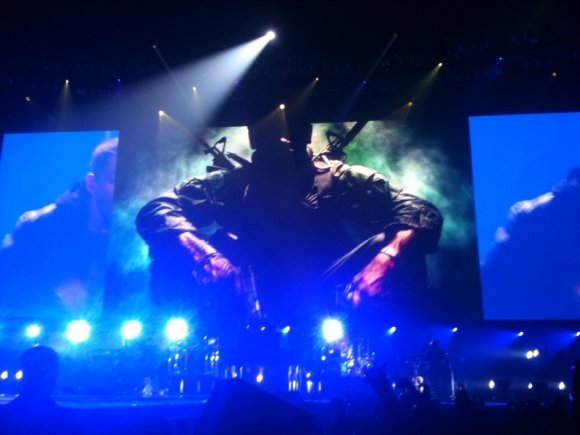 Myself and Michael Condrey had the distinct pleasure of being invited to the Activision concert at the Staples Center. Dave Stohl, Executive VP of World Wide Studios at Activision was cool enough to get us VIP tickets. I didn't think Condrey deserved them but we throw him a bone once in a while, plus he's scared to sit alone. I talked with Evan Wells of Naughty Dog, we go back a long way when we worked together on Gex 2 just before we went in. Anyway we worked our way to the front row! Unbelievable seats. We saw so many celebs from the gaming, music and movie industries.
The concert started with DJs Deadmau5 and David Guetta who got everyone rocking. Then the lights went down (Condrey was really scared now). There were three huge screens so everyone could see the performers. Cameras were everywhere; mounted from ceilings and moving on big booms. The crowd must have been a couple thousand. All the food and drinks were free provided by Activision. Lights down, Usher struts on stage and wows the crowd. Condrey threw his undies at him. He was followed, not exactly in this order, by Jane's Addiction (Navarro was rocking!), Soundgarden, and NERD. Like everyone else, I'm taking pictures, but right up next to the stage. In the middle of the floor was a ramp where Tony Hawk and his posse all skate onto the stage, say hello, announce the new Tony Hawk game and split. While this is going on Condrey is munching on a big pretzel. The crowd is going crazy but in a good way. People were dancing and drinking and just having a great time. The light show was cool and they even had pyrotechnics during the fantastic, and not long enough demo of Black Ops. The game looks amazing. Mark Lamia and Treyarch are really bringing it. It was world class. And speaking of world class, the final act was who everyone was waiting for. Eminem crashes onto the stage and the place erupts. He has such a great stage presence. Condrey is in tears by now. Eminem does a couple songs, some shout outs to Activision and then brings on Rihanna. They sing a song and then both leave the stage. Eminem comes back on and blows everyone away with "One Shot". By now even I'm in tears.
All in all it was a great night. It was a chance for Activision to just have fun, throw a big concert for the industry and fans, celebrate and barely talk about games. I liked that a lot. Instead of the usual big booth they did something extremely cool, different and it was one heck of a show.
Written by Glen Schofield
Categories Culture
06/28/2010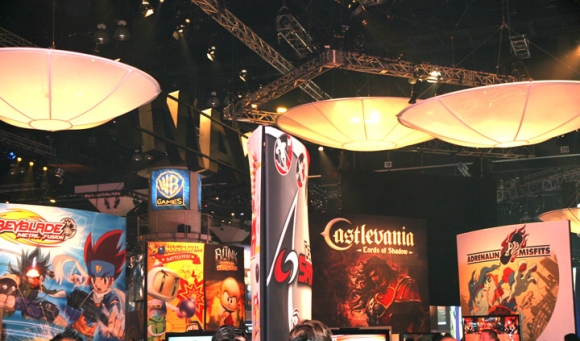 Condrey and I hit the show and saw all the big booths and new games. I haven't missed an E3 in a decade and I was a bit underwhelmed by some of them. There were a lot of games I just wasn't that interested in this year. On a positive note, the ones I am interested in are looking tight! I think this holiday should be a pretty good one, but not as good as 2008!
Just as I began my rounds I bumped into my old pal, the guy I created, Isaac Clark. He was so happy to see me. He mentioned he didn't like his new suit as much as the old one. :P
We saw the Nintendo booth which was freaking packed as were the Sony and Microsoft booths. Hardware and peripherals were big this year with a slimmed down 360, the Nintendo 3DS and the new motion controllers from Sony and Microsoft. Everyone was talking about 3D.
Somehow along the way Condrey got lost and I found him semi-naked and crying. For some strange reason he insisted on us meeting all the mascots that were there. Since he was in such a sad state I indulged him. I'm not proud of it but let the record show, everything was legal. I think.
Attendance was quite a bit smaller than other years which was strange and may be bad for the industry but made it easier to walk around. Obviously I'd rather see the industry strong. I have a feeling that some of the new hardware may help this holiday.
The games I am most looking forward to is Gears of War 3, Zelda, Twisted Metal and of course Black Ops to name a few. I'll keep my eyes on a few more to see if they keep trending well. All in all, I'd say it was a good E3 and I'm glad we're back at the Staple's Center doing the big shows again.
Written by Glen Schofield
Categories Modern Warfare 3
06/15/2010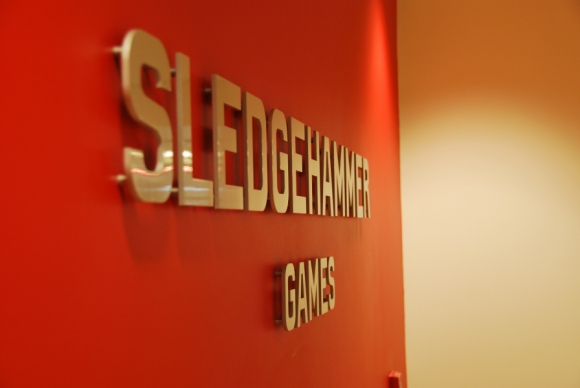 Welcome to our new website! Although we liked the first version, we decided that our original design wasn't exactly right for us. I blame Michael Condrey (Sledge) the other co-founder. We needed a site that reflected our studio look, culture, direction and identity better. So after years of intense research, focus tests, billions of dollars, scientific analysis, pie charts, luck and a complete redesign we are extremely happy and proud to unveil our newest design.

This time we created a site that was easy and intuitive to navigate and full of details about us and the games industry. We wanted a site you'll want to come back to so we'll always stay current and new. And we'd like to hear from you too.

What would you like to know, learn about or see? Send us ideas, photos, sketches and money (preferably unmarked sacks of cash).

Our studio has grown to well over 50 developers, people who are some of the best in the industry. We are still hiring and growing rapidly as we staff for a title in arguably the hottest franchise in games:

Call of Duty! We are proud and humbled to be a part of Activision and this esteemed series. We look forward to creating games that the fans will embrace.

On February 27th we moved into our state of the art facility. We designed it from the ground up with the very latest technology and equipment. It's also built to enhance collaboration, foster new ideas and the idea that everyone at Sledgehammer Games is a game maker; we want every person to feel free to express their ideas, thoughts and concerns.

If you'd like to be a part of a AAA development team, have fun and make exciting and high profile games, check out our career page. We have many exciting openings and a bright future ahead of us.

Thank you for visiting our site. I encourage you to check back often and let us know how we're doing.
- Glen A. Schofield
a
Written by Glen Schofield
Categories Culture, Modern Warfare 3, Question of the Week
06/14/2010
Sledgehammer Games was founded not only with the clear purpose of making world class games with top-notch developers, but also with the distinct desire to create a family-like studio atmosphere. With this in mind, the Sledgehammer Games crew followed up its great Holiday Party by hosting an Open House Celebration on Friday, April 23rd to break in the new studio. In addition to dinner, drinks, and excellent music, employees and their significant others enjoyed the artistic talents of local caricature artist, Doug Shannon, as well as a fantastic masseuse. The night also included many rocking rounds of Band Hero and action-packed Call of Duty: Modern Warfare 2 multiplayer matches. All in all, the night was full of great people, food, and fun and will definitely not be the last big event at Sledgehammer Games!
Written by Glen Schofield
Categories Culture