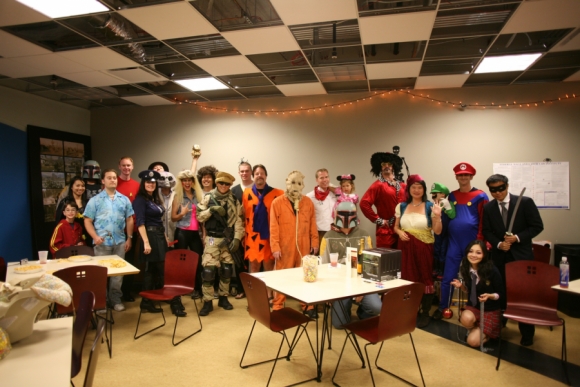 Last Friday we decorated the studio and had a big Sledgehammer Games Halloween Party. We had a pumpkin bowling break in the morning, where Condrey the Sheriff put a hole in the wall! Followed by a Candy Corn Catch with our very own Dee Snyder!
As always we had to have some kind of food related contest - this time called the Eyes in the Pie where 4 contestants searched for gooey eyeballs in Pumpkin Cream Pies! Robin prevailed and got each of his team members an extra raffle ticket for cool prizes.
We then ended the evening with a Costume Contest for best group (winners: Mario, Luigi, & Princess) and individual (winner: Scarecrow).
Check out the great costumes and pie cream covered faces!