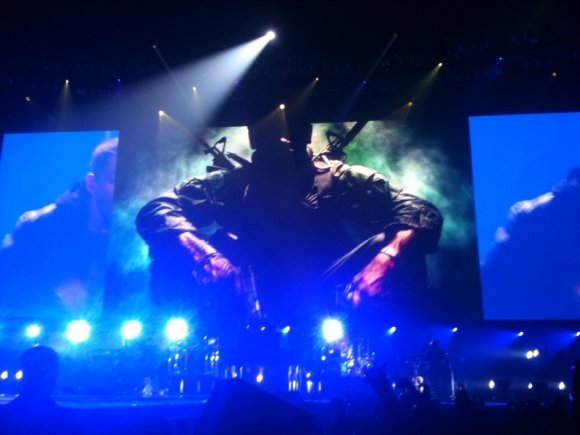 Myself and Michael Condrey had the distinct pleasure of being invited to the Activision concert at the Staples Center. Dave Stohl, Executive VP of World Wide Studios at Activision was cool enough to get us VIP tickets. I didn't think Condrey deserved them but we throw him a bone once in a while, plus he's scared to sit alone. I talked with Evan Wells of Naughty Dog, we go back a long way when we worked together on Gex 2 just before we went in. Anyway we worked our way to the front row! Unbelievable seats. We saw so many celebs from the gaming, music and movie industries.
The concert started with DJs Deadmau5 and David Guetta who got everyone rocking. Then the lights went down (Condrey was really scared now). There were three huge screens so everyone could see the performers. Cameras were everywhere; mounted from ceilings and moving on big booms. The crowd must have been a couple thousand. All the food and drinks were free provided by Activision. Lights down, Usher struts on stage and wows the crowd. Condrey threw his undies at him. He was followed, not exactly in this order, by Jane's Addiction (Navarro was rocking!), Soundgarden, and NERD. Like everyone else, I'm taking pictures, but right up next to the stage. In the middle of the floor was a ramp where Tony Hawk and his posse all skate onto the stage, say hello, announce the new Tony Hawk game and split. While this is going on Condrey is munching on a big pretzel. The crowd is going crazy but in a good way. People were dancing and drinking and just having a great time. The light show was cool and they even had pyrotechnics during the fantastic, and not long enough demo of Black Ops. The game looks amazing. Mark Lamia and Treyarch are really bringing it. It was world class. And speaking of world class, the final act was who everyone was waiting for. Eminem crashes onto the stage and the place erupts. He has such a great stage presence. Condrey is in tears by now. Eminem does a couple songs, some shout outs to Activision and then brings on Rihanna. They sing a song and then both leave the stage. Eminem comes back on and blows everyone away with "One Shot". By now even I'm in tears.
All in all it was a great night. It was a chance for Activision to just have fun, throw a big concert for the industry and fans, celebrate and barely talk about games. I liked that a lot. Instead of the usual big booth they did something extremely cool, different and it was one heck of a show.