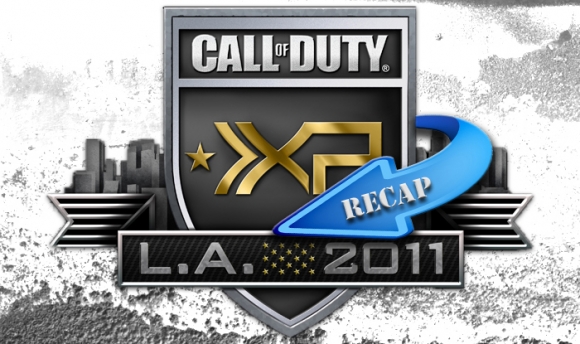 Call of Duty XP was an absolutely incredible event. The Sledgehammer crew was representing in full force once again rocking our MW3 shirts. We've captured plenty of pictures to share here so we hope you enjoy! You can also check out more photos from the event on our Facebook page. In addition to photos, we've decided to share some of our experiences first hand with an official Sledgehammer Games Call of Duty XP recap video featuring Co-founders Glen Schofield and Michael Condrey. Watch it here:
"When we first drove up to the venue, I was instantly blown away." says Community Manager Guy Beahm. "Everything we've been talking about and envisioning was finally here, alive. The Scrapyard recreation was insane, Burgertown was thriving, the Jeep experience was a hit, and the fans were rocketing across the air on the zip line. Crazy"
Guy continues, "While all of that was taking place outside, inside was the real star... MW3. Being hosted in two HUGE hangars, Call of Duty: Modern Warfare 3 Multiplayer and Spec Ops were being showcased everywhere. The One Million Dollar Tournament fueled the intensity of the multiplayer experience, attracting some of the best players and teams in the world. Outside of the game there were various events including panels, Pros vs. Joes competitions, Juggernaut Sumo Wrestling and concerts from Kanye West and Dropkick Murphys."
"The event was particularly special for the development team at Sledgehammer Games. We have poured a ton of passion, energy, and sweat into the development of MW3, with one singular goal: to help make this the biggest and best Call of Duty game to date. For us to be there, with the fans, was incredible. Whether you watched the live stream or experienced it first hand, I think everyone walked away pretty amazed! If it weren't for the fans, an event of this magnitude would never exist, so thank you!"