E3 2011 kicked off in a huge way with Sledgehammer Games and Infinity Ward showing off Modern Warfare 3 at the Microsoft Press Conference. The Sledgehammer crew was representing in full force with their MW3 shirts and hats while passing out MW3 decals. We've captured plenty of pictures to share so we hope you enjoy!
"E3 is the video game industry's largest annual US tradeshow," explains Michael Condrey, Co-founder and COO of Sledgehammer Games. "It's the chance for hardware and software developers to show off their latest creations. I always enjoy participating in the show - it is an exciting opportunity to see, in one place, the best of what is happening across the industry." Michael explains, "The developers at Sledgehammer Games pour their hearts and souls into making great video games. At the core of our studio culture is a commitment to the pursuit of excellence, and E3 gives us an opportunity, on a large scale, to validate that our software is meeting and exceeding that promise to the fans."
"This was my first E3." says Community Manager Guy Beahm. "I've always wanted to go, but until I started with Sledgehammer Games, like most fans, I only read about it online, or caught streamed videos from the conference. It was a great experience, especially being there with the Sledgehammer Games crew. The Activision booth was by far the biggest attraction at the show. Every couple of hours, the screens surrounding the booth would drop and boom, you're immersed in a MW3 cinematic world for 15 minutes. The audio was intense, the choreographed visuals between the screens were powerful, and most importantly, the reception was fantastic!"
Steven Spielberg is a fan!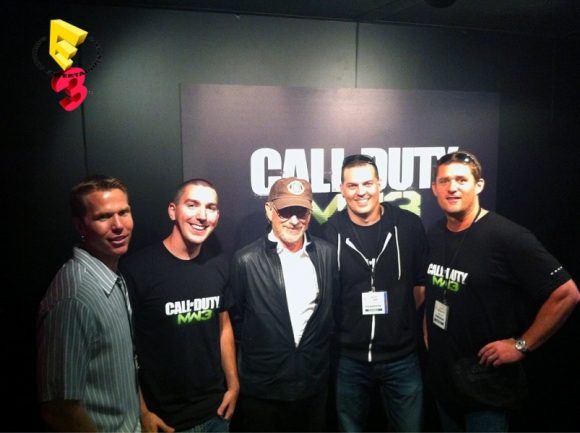 "The outpouring of interest and support for Modern Warfare 3 from the media, fans, retailers, and other developers was astonishing." says GM Glen Schofield. "I could not have been more proud of the work that Sledgehammer Games and Infinity Ward co-developed, or Activision's support with its best in class booth design. Based on what I saw at the show, gamers have a ton to be excited about this fall."
Additional E3 Media Links featuring MW3:
Gametrailers: http://www.gametrailers.com/video/e3-2011-call-of/715367
Gamespot: http://e3.gamespot.com/video/6318086/#toggle_video
IGN: http://www.ign.com/videos/2011/06/07/e3-2011-ign-live-modern-warfare-3?show=HD
We hope you enjoyed our E3 Wrap-Up! To view more pictures, head over to our Facebook Page.