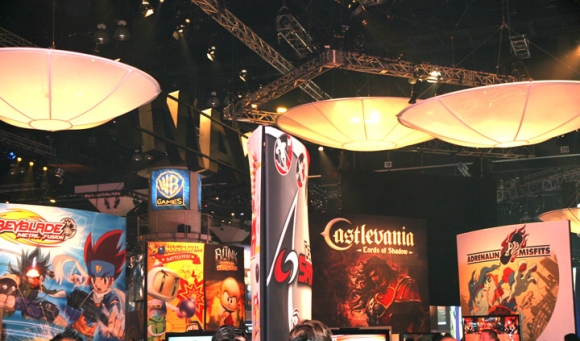 Condrey and I hit the show and saw all the big booths and new games. I haven't missed an E3 in a decade and I was a bit underwhelmed by some of them. There were a lot of games I just wasn't that interested in this year. On a positive note, the ones I am interested in are looking tight! I think this holiday should be a pretty good one, but not as good as 2008!
Just as I began my rounds I bumped into my old pal, the guy I created, Isaac Clark. He was so happy to see me. He mentioned he didn't like his new suit as much as the old one.
We saw the Nintendo booth which was freaking packed as were the Sony and Microsoft booths. Hardware and peripherals were big this year with a slimmed down 360, the Nintendo 3DS and the new motion controllers from Sony and Microsoft. Everyone was talking about 3D.
Somehow along the way Condrey got lost and I found him semi-naked and crying. For some strange reason he insisted on us meeting all the mascots that were there. Since he was in such a sad state I indulged him. I'm not proud of it but let the record show, everything was legal. I think.
Attendance was quite a bit smaller than other years which was strange and may be bad for the industry but made it easier to walk around. Obviously I'd rather see the industry strong. I have a feeling that some of the new hardware may help this holiday.
The games I am most looking forward to is Gears of War 3, Zelda, Twisted Metal and of course Black Ops to name a few. I'll keep my eyes on a few more to see if they keep trending well. All in all, I'd say it was a good E3 and I'm glad we're back at the Staple's Center doing the big shows again.