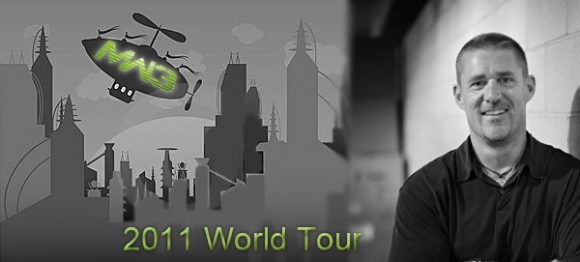 Follow Glen Schofield on Twitter: http://twitter.com/glenschofield
Well, what a trip!
28 days, 7 countries and seven great cities: Tokyo, Paris, Milan, Berlin, Madrid, Stockholm and London.
Every one had it's great moments and no I can't pick a favorite. Truthfully every single place has it's own charm and style. The people I met from every city were gracious, friendly and quite complimentary on MW3. I did Radio, TV, News, Live Chats, Blogs, magazine covers and articles, site articles, autographs, stage shows and awards shows. I don't have any idea how many 1 on 1's I did but I really enjoyed them all. Thank you to all the territories, fans, communities and press for their support. I want to thank Robert Bowling for all the great interviews we did together. And of course Josh Selinger, Robert Taylor, James Lodato, Shannon Wahl and Mike Mejia for the unbelievable help in setting up, coordinating, demoing and organizing that they did. They were amazing.

So the World Tour is over. What a trip! Until next time, this is Glen Schofield.
Out,

-Glen