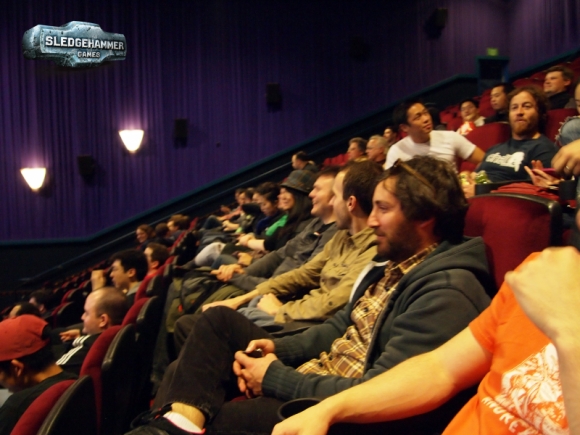 Last Wednesday, Glen Schofield and Michael Condrey took everyone from the studio to see the new action blockbuster film, Battle: Los Angeles!
"Work hard, play hard" is one of the mottos at Sledgehammer Games, according to Condrey. "The staff here has been pouring a lot of passion and energy into our current Call of Duty project and it's nice to get out of the office together and re-energize as a group."
Battle: Los Angeles takes you right into the alien invasion warzone. While the film has received mixed critical reviews, the visuals were pretty stunning. The film was full of amazing special effects, missiles, explosions, gun fire and aliens. I mean, that's all that matters right?....Right?
"I give it 5/5 stars," said Condrey. "Not only did it have a dog named Glen, but it highlighted the criminal critical skills all kids from New Jersey learn at a young age."
"Hey, I'm from New Jersey," said Schofield.
You can continue to follow the interactions between Glen and Michael on Twitter!